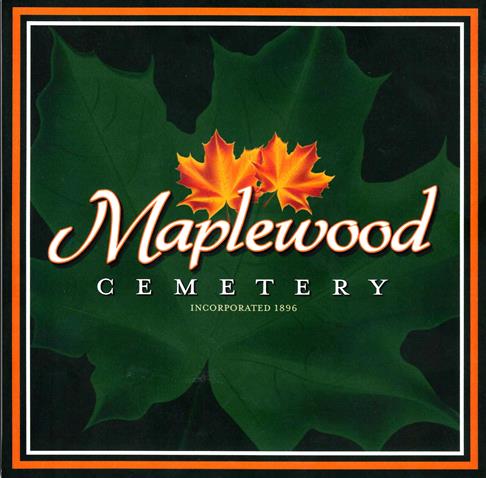 Maplewood Cemetery History
Established in 1896 in the Town of Henrietta, New York. The Maplewood Cemetery, a landmark within a town rich in history, has its own heritage. The town burial site was originally privately owned by T.O. Jones and had been used as a town cemetery. It was incorporated in 1896 as a not-for-profit cemetery association, owned and managed by its members. Since the incorporation, approximately 20 acres have been added to the original 5.
Rich, poor, famous and unknown are buried here. Many of Henrietta's schools have been named for some of the community leaders now buried in Maplewood Cemetery. Early gravesites date back to the mid-nineteenth century and lie in the oldest section of the cemetery. Maplewood Cemetery continues to allow families to use upright monuments and takes pride in the maintenance of the grounds. The surroundings are peaceful, park-like and welcoming.
The Ely Fagan American Legion Post hosts a Veterans Memorial Day service at the cemetery every year. Flags are placed on the graves of veterans; 3 of which were in the Revolutionary War, 2 from the War of 1812, 2 from the Mexican War, 24 from the Civil War, 32 from WW1, and 193 from WW2. Over 500 veteran graves were decorated with U.S. flags for Memorial Day in 2017.
A Memorial Garden was established in grateful recognition of those who have served the Maplewood Cemetery Association as President, Secretary, Superintendent and Board members. In 1991 a bequest was given in the name of Floyd Goodberlet, who served as Superintendent for 24 years. At that time the Board of Directors elected to establish a legacy to Mr. Goodberlet and those who have been involved with the cemetery. The garden is a beautiful, peaceful spot which invites reflection over the memories of a lifetime and the building of a community. This Memorial Garden is centered in Section F.
Maplewood Cemetery continues to be an active and growing community cemetery. The expansion and development of of the cemetery will double the available space and provide for improvements throughout.
This is a Cemetery
Lives are commemorated - deaths are recorded - families are reunited - memories are made tangible - and love is undisguised. This is a Cemetery
Communities accord respect, families bestow reverence, historians seek information and our heritage is thereby enriched.
Testimonies of devotion, pride and remembrance are carved in stone to pay warm tribute to accomplishments and to the life - not death - of a loved one. The cemetery is homeland for family memorials that are a sustaining source of comfort to the living.
A cemetery is a history of people - a perpetual record of yesterday and a sanctuary of peace and quiet today. A cemetery exists because every life is worth loving and remembering - always.
(author - Mary Lou Brannon)